Wind Driven Turbo Ventilator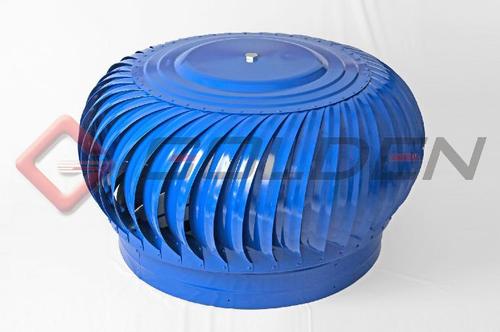 Wind Driven Turbo Ventilator
Product Description
As a prominent entity in the domain, we are indulged in offering excellent grade Wind Driven Turbo Ventilator to our valuable clients. This ventilator is used to perform effective exhaustion of harmful gases and heat fumes in various industrial premises. Moreover, our skilled professionals manufacture this ventilator using the premium quality raw materials with the help of modern techniques and tools. This Wind Driven Turbo Ventilator can be availed from us at affordable rates.
Key Points:
Withstands rough weather

Excellent finish

Accurate dimensions

Corrosion resistance

TECHNICAL SPECIFICATION:-
Model

GT-610

Turbine Diameter

760mm

Neck/Throat Diameter

610mm

No. of Vanes(Blades)

42 Vanes

Height

460mm

Base Ring MOC

(Mounting Ring)

Stainless Steel 430

Top Plate MOC

Aluminium Thickness 1.2mm

Alloy 8011 H2

Vanes MOC

Aluminium Thickness 0.5mm

Alloy 8011 H2

Rotation

Twin Sealed 6000ZZ bearings and self lubricating bush of Polyamide 66 resin to ensure frictionless rotation even at lowest wind velocity

Center Shaft

Stainless Steel 12mm

Inner Arms

M.S. with Powder Coating*

Outer Arms

Stainless Steel

Center Pipe

M.S. with electro zinc plating

Nett. Weight

6 Kgs (Approx.)

Gross Weight

8.5 Kgs (Approx.)

Packing

ASSEMBLED

5 ply seaworthy corrugated box

size 780x780x490mm

Qty in 20 ft. container

Qty in 40 ft.

container

40 ft. HC

container

84 Nos

180 Nos

225 Nos
Packing

CKD / KIT /

UNASSEMBLED

5 ply seaworthy corrugated box size 700x700x160mm

Qty in 20 ft. container

Qty in 40 ft.

container

40 ft. HC

container

378 Nos

765 Nos

867 Nos
Note : Golden Engineering Co. Pvt. Ltd. Reserves the right to make changes owing to regular product development
*Powder Coating is done with Epoxy Polyester Powders for excellent corrosion resistance.
EXHAUST CAPACITY :-
Wind Velocity

TURBOVENT GT-610

Exhaust capacity

Litres/Second

CFM

04 Kmh

700

1485 CFM

08 Kmh

920

1950 CFM

12 Kmh

1500

3178 CFM

18 Kmh

2080

4407 CFM

24 Kmh

2650

5615 CFM
*Multiply Litres/Second with 2.118 to convert it into CFM